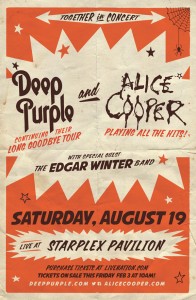 Deep Purple and Alice Cooper unite for one of the BIGGEST Rock Tours this summer, and YOU could see them live!
Both will be LIVE from Starplex Pavilion on Saturday, August 19, featuring The Edgar Winter Band.
You can purchase tickets by clicking on the flyer to the right.
More details will be announced soon!
And Congratulations to Jerry Coffey for winning our fist pair of tickets to the show!!