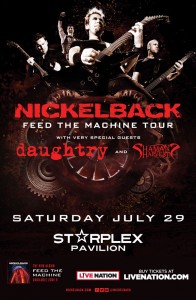 Nickelback is back with new music, and a new album coming this year.
You can see them LIVE in Dallas at the Starplex Pavilion Saturday, July 29 with Special guests Daughtry and Shaman's Harvest.
"Dog them all you want – and we know EVERYONE likes to give them a hard time – but this new song is good and their live shows never disappoint." – Meatball
Click on the poster to the right to find out how you can purchase tickets.
The new album "Feed The Machine" is out June 9.